Guest Book


>> Dear Sherry,  We are safely at the gate, waiting for our flight back to the states and we all wanted to thank you for an amazing time in Beaune.  You are a very talented guide and just like Jiro, you certainly strive for perfection:  You did a terrific job balancing our different interests and making sure everyone had a special time that fit their interests. Dan Markoff (NYC, NY)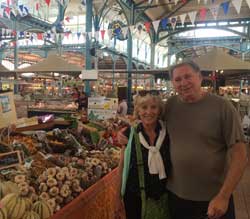 >> It is hard to adequately express in words how much we enjoyed our day with you in Burgundy. Our two cellar visits were wonderful and it was a great pleasure to spend time with such talented, wonderful vintners. Rob and Judy Stephenson (Ontario, Canada)
>>…Sherry is a treasure trove of knowledge, and I am sure your time in Burgundy will be the richer for it… Marilee Taussig Untours (Philadelphia, PA)
>> At the Louvre Sherry dexterously took us through the teeming crowds to view, not only the works all visitors feel they must see, but others that are watermarks in the development of art… Later, as we walked the streets of Dijon … she brought the 12th century to life in the cloisters of Saint-Bénigne and introduced us to the bustling covered market. She made the getting acquainted with Dijon so easy and companionable that we will soon be returning!
Jeanette Cushman, David Stroh  (Carlsbad, CA)
>> Sherry … Thanks so much for the WONDERFUL tour of Burgundy! I learned so much but have so much more to learn….must mean a return trip. Woodie Woodward (Sarasota, NY)
>> Dear Sherry, You are a great source of knowledge about your adopted city and at the same time your gentle spirit and hospitality endear you to us all. Thank you ever so much for adding such a unique dimension to our pilgrimage. Joan Currey (San Francisco)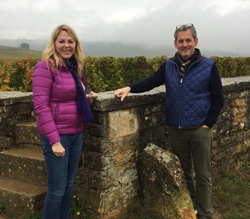 >> Sherry Thevenot was very helpful, providing translation, plenty of background, history and lore and friendly companionship. She is an articulate, knowledgeable guide with an active curiosity and I strongly recommend her for future assignments… » Gerald Boyd, Wine on Line (Santa Rosa, CA)
>> … If it had not been for Sherry showing us around Burgundy we would have missed out on so many wonderful wine tastings and things.  She took us to places we would have never found on our own and found us great places to stay. She also helped us ship wine home.  We can't wait to go back so she can show us more.
Holly and Joe Jankiewisc (Coronado, CA)
>> Just a quick thank you from all of us. We all enjoyed the variety of tastings and the look at Burgundy from the smallest up. Was all very interesting and well organised, and let us know if u ever need any testimonials for your website etc. Chris Littell (Hong Kong)

Frequently asked questions
>> How do you promote yourselves?
Mainly by word of mouth. People remember a good guide.
>> Do you work with tour operations or travel agents?
Yes, we are independent but hired regularly by Butterfield & Robinson, Abercrombie &Kent, French Wine Explorers, Context, AHI, Chocolatine… numerous Virtuoso travel agents.
>> Are you on Trip Advisor?
We do not aim to be on Trip Advisor or any such site because the onslaught of requests for services would likely be too much handle considering the full agenda we already have.
>> How long in advance should one book a tour?
There is no rule. Today's tendency is not to make travel arrangements too far in advance. Rarely are we able take on last minute requests. But there is no harm in trying!